Vintage Door Knobs
For those who may be thinking about choosing antique door knobs for your home, you should be aware that there are several types available. Before the dawning of the modern age in architecture in the post-World War II era, typical homes were more ornate in construction and that style was also reflected in the furniture, furnishings, and even the door knobs.
In addition to the different designs, the door knobs were also made from different materials. There were several reasons why you'll find vintage glass door knobs or perhaps vintage wooden door knobs. In most cases, it was because glass, wood, brass, or other materials were the most available at a low price. Today, modern door knobs are typically metal, but in the old days you could find several different types.
History of Vintage Door Knobs
The modern door knob in terms of its shape, size, and function did not appear until the mid-1800s. Before that time, most people used door latches to secure their home. The relatively sophisticated construction of the door knob made its introduction into more common homes around the time of the American Revolutionary War.
The materials that made up the door knobs differed depending on the availability of materials and the style that was in fashion at the time. It was not until the dawn of the modern age in housing design did standard metal door knobs become fashionable and today they dominate the market.
What follows are a selection of different antique door knobs that you can often find when looking online or visiting your local antique or salvage store. You may notice that your region of the country favors one type of door knob or perhaps several different types. In any case, if you are restoring an old home that was built before World War II, you should look at the most prominent types of door knobs that were from that time.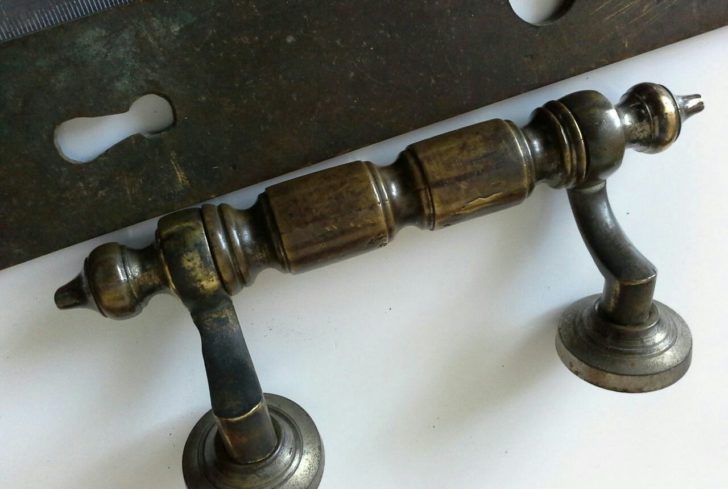 Wood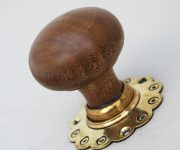 You can find many vintage wooden door knobs in antique and salvage stores, although they were not as popular as standard glass, porcelain, or metal door knobs. Still, they were very popular in the middle 19th century around the time of the US Civil War. Most wooden door knobs were plain, round, and smooth, but many were also square in shape with decorative lines around the edges. In some cases, there have been intricately carved vintage wooden door knobs made for individual homes and may fetch a good price on the antique market if they are in good shape.




Because the popularity of wooden door knobs waned by the turn of the 20th century, they are harder to find than other types of antique door knobs. So, you must do some searching to find them, especially those in good condition.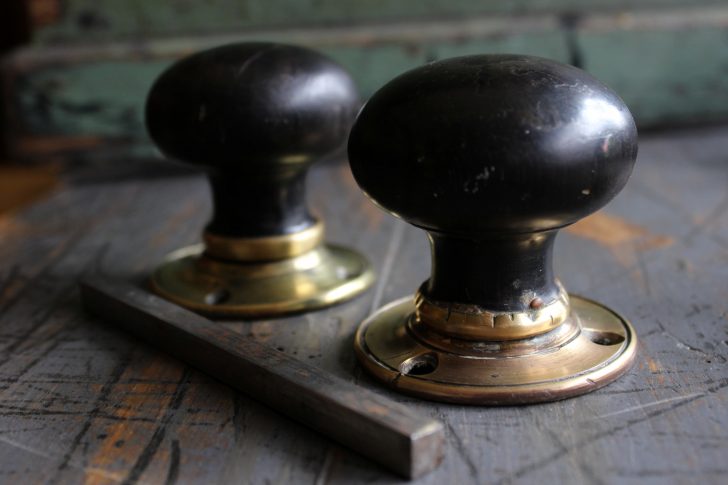 Glass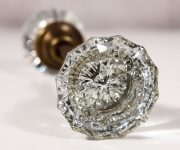 Basically, cut glass that was shaped into the form of a door knob. You can find vintage glass door knobs going back to the late 18th century, particularly in everyday homes where they were quite popular because of their easy availability, low price, and durability. You can find them in a wide variety of shapes, sizes, styles, and colors, but it is the clear glass that is the most common.
The glass door knobs were popular with Italianate, bungalows, Fore-Squares, and Colonial Revival homes that became popular around the turn of the 20th century. The vintage glass door knobs were revived again during World War II when metal for door knobs was in short supply. However, by the beginning of the 1960s they faded away as metal door knobs become more commonplace.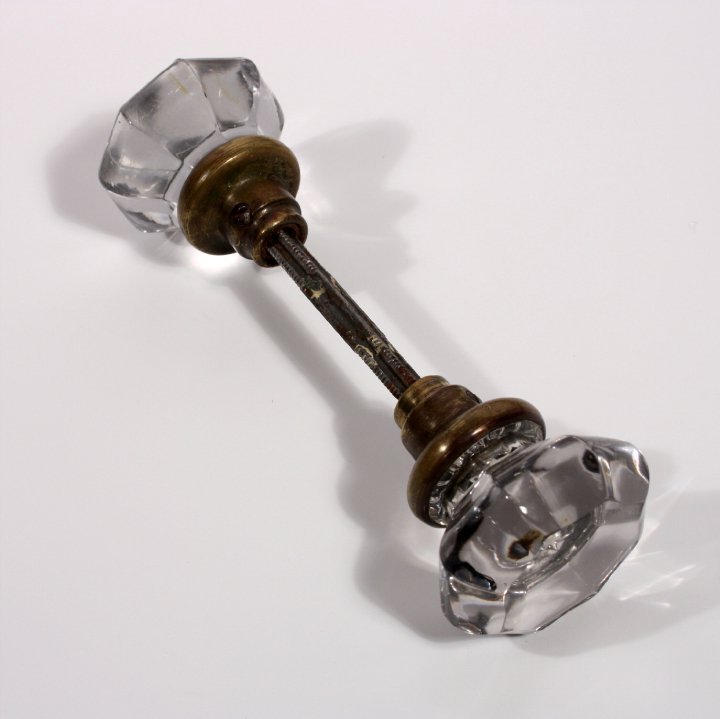 White Porcelain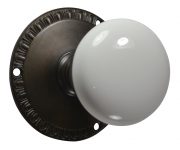 In the mid-18th century, white porcelain was a becoming popular material for creating door knobs in Europe. This was thanks to advances in pottery methods that made porcelain easier to shape. The beauty and durability of porcelain made for excellent, ornate door knobs that became popular in America in the late 18th century and remained so until the early part of the 20th century. The types of homes that were most likely to have vintage porcelain door knobs include the following;
Greek Revival
Italianates
Early Victorian
Bungalows
You may find in your search of vintage porcelain door knobs a series of web-like cracks on the surface. This is the cracking of the patina and not the porcelain itself. If you are considering white porcelain door knobs for your home, they look most elegant with rim locks that are black.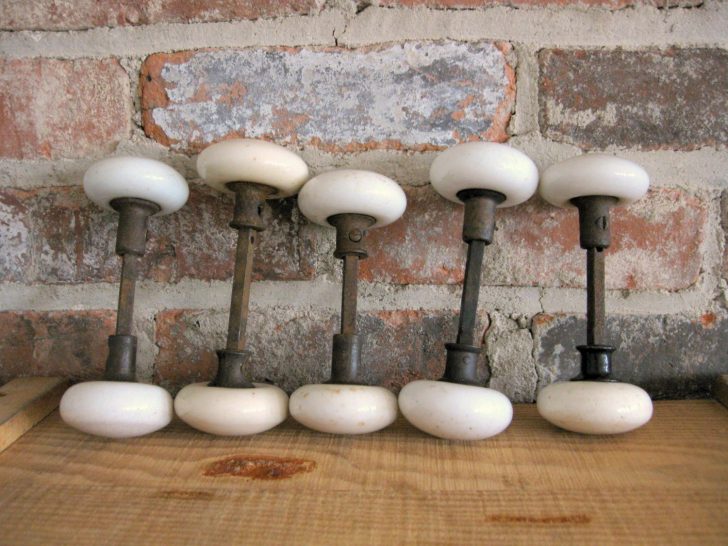 Brown Mineral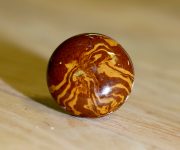 Like white porcelain, brown mineral door knobs have a surface that resembles marble and swirls in their internal patterns that make them highly prized. Sometimes called Bennington Knobs, they only enjoyed a short-lived status of popularity from the middle to the end of the 19th century. Those who had Greek Revival homes were the mostly likely to choose brown mineral door knobs as it complimented the color and style of the living places quite well.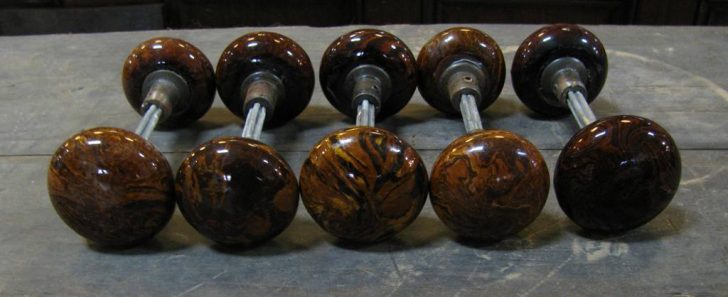 Brass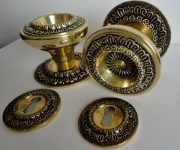 Arguably the most common of the antique door knobs, those made of brass started appearing in the mid-18th century as they became some of the first to replace door latches. Brass was simple, colorful, and robust in nature which accounts for their popularity that reached into the early 20th century, although they were not as favored during the early part of the Victorian period. This is because brass door knobs are not as ornate as glass or porcelain, so they started to fall out of favor. Still, they were popular with the Colonial Revival period.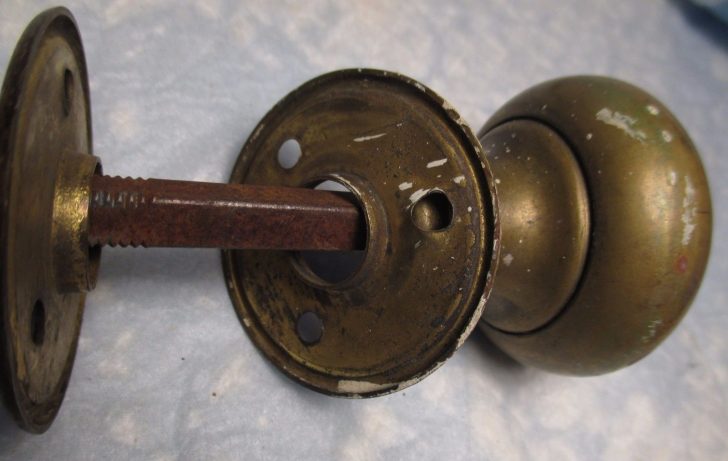 Bronze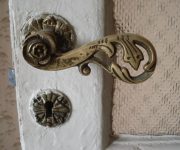 Most notably, Victorian bronze which is very recognizable thanks to is ornate plating that holds the door knob in place, they were very popular just after the US Civil War thanks to new casting methods for the metal. They were very ornate and worked perfectly for upper class homes of the period. Many included Asian or Middle Eastern influences in their design.
You can find several antique door knobs that range from Victorian bronze and brass to vintage wooden door knobs, white porcelain, brown mineral, and the favored vintage glass door knobs that can properly decorate your home.