What lubricant to use to silence squeaking door hinges
Contents:
Sooner or later the fact of unpleasant sound of a squeaking door starts inevitably to annoy even the patient people with a good nervous system. To solve this problem properly first It's worth figuring out why door hinges start squeaking at all.
Causes of a door hinges squeak
The most common causes of creaking hinges are the following:
Improper attachment of hinges while the process of doors installation
If the reason is this one, squeak will appear immediately after door installation and the beginning of using. As for a front or an external door iron hinges welded before the door was installed, you hardly can manage to do anything with your own hands, that's why it's worth applying to professionals who set this door for you for its reinstallation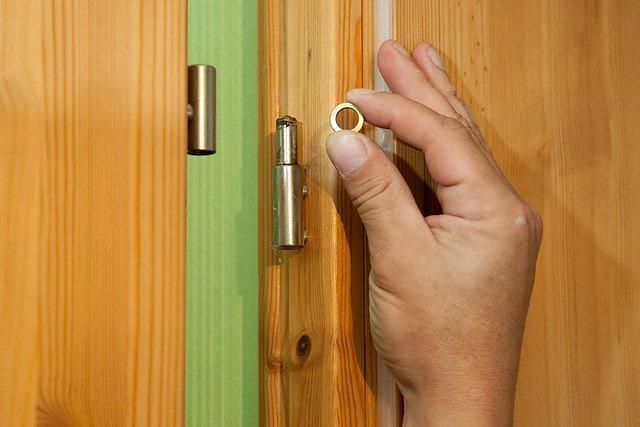 Concerning interior doors, one of the ways to prevent the possible appearance of squeak in the future and to get rid of the problems connected with removing and lubricating the door is the installation of a new door, that might be done keeping in mind one thing. Half hinges with an axis (pintle) should be attached to the door leaf, and half hinges with a hole, which look like a glass, should be attached to the frame. Usually, this is done completely vice versa that leads to quick leakage of oil while the process of the lubrication of the door.
Hinges and door covering touch each other
In case if you want to get rid of a door's creak, it is necessary to display carefulness and fit the size of the covering to certain door hinges.
Absence of lubricant in hinges or using an improper lubricating substance
The absence of special balls in the hinges construction
There is only one way out of this situation: Both door and hinges should be removed. After the hinges have been filled with the missing balls they are attached back to the door leaf again, which, in its turn, should be returned to its proper place.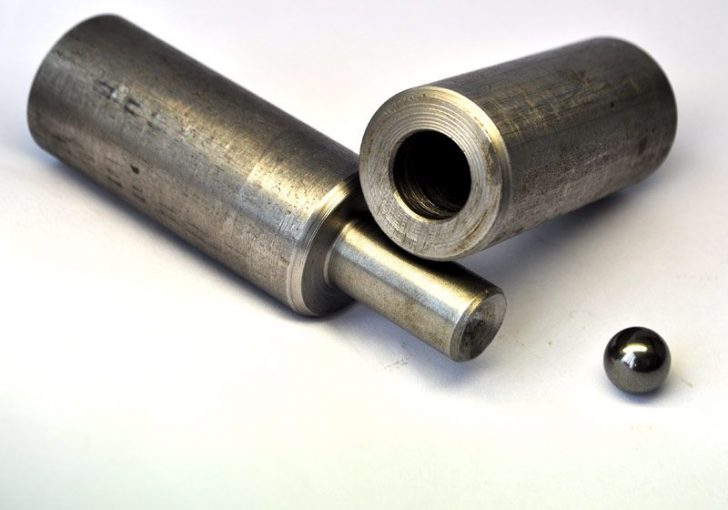 It is not as difficult at all as it seems to be. So to eliminate the cause of door creaking, the most important thing is to provide proper diagnostics.
What lubricant to use for a creaky door
Both home and professional lubricants can be used for fixing the door squeak right away. As home lubricants you can the following:
vegetable oil
pencil lead
warm melted paraffin or wax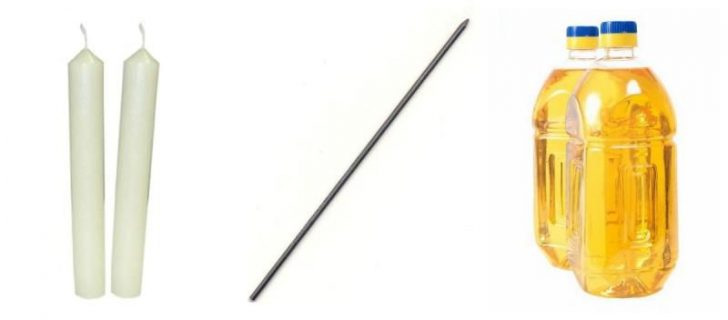 Despite availability of these means, they should be used only in case of extreme need and with caution because each of them has its own disadvantages. So both warm wax and vegetable oil have short-term effect, that's why it would be better to use them only in extreme cases. Moreover, the vegetable oil, which is used for lubrication of the door hinges', becomes quickly dirty. This also refers to different food fats, butter or vaseline as they also become dirty fast, result in occurrence of metal corrosion. Furthermore, they help to silence the squeaking hinge only till the moment they get dry.
Thus, even if you have used one of these home lubrication to get rid of the creaking hinges of a plastic or wooden door it is extremely desirable to buy a specialized lubricant as quickly as possible. But it's necessary to remove the used vegetable oil or any other domestic oil before the process of door hinges' lubrication.
Special products for creaking door lubrication
Universal lubricants (such as well-known and popular WD – 40, for example), refer to the special products for lubrication of creaking doors. These products are produced in the form of oil or spray and they are multifunctional as well that means they not only solve the problem of the squeak but also remove contamination, grease and rust preventing further occurrence of these undesirable effects.
Any machine oil not only eliminates squeak of the door hinges but also prevents from the formation of rust.
Oil for the sewing machines.
Special lubricants for machine mechanisms such as solid oil, litol or tsiatim.
How to lubricate the hinges of a plastic, wooden or glass door
For qualitative lubrication of door hinges, it's desirable to take a door off its hinges. The door should be raised with any hand lever such, for example, as scrap and ax, which is needed to be placed under the door end. Then all the details put on the door-frame and the door linen are greased carefully with a special product for elimination of this unpleasant squeak. After the door is hung on the hinges again it should be opened and closed like about several times to distribute the lubricant smoothly. It's necessary that the remnants of the lubricant should be wiped out with a dry cloth at the end.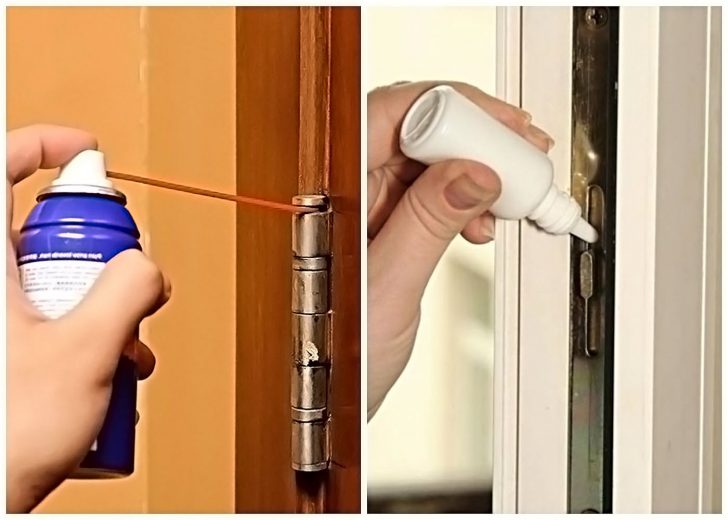 Sometimes it's enough just to lift the door with a lever without taking it off the hinges.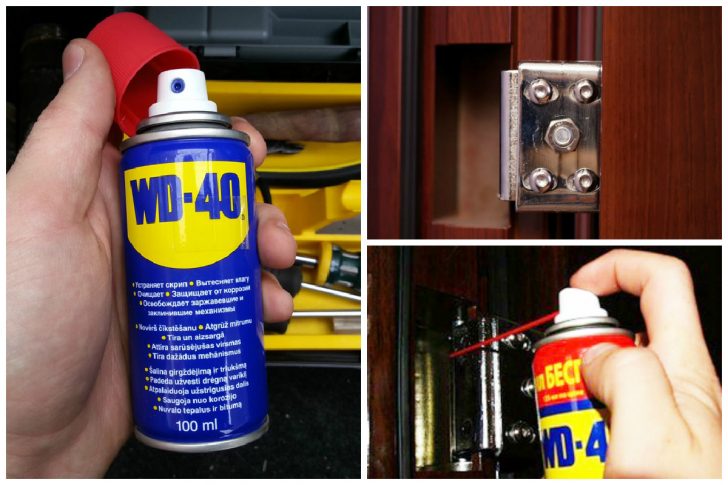 A coat of grease is simply put between the joints of the hinge If it is impossible to remove the door or in case of the hinges are fast-pin. Spray lubricants will be the most suitable for this purpose.
If the hinges got rusty, the best thing that can be done as a solution of this problem is to replace them with new ones because they will get worse and worse during the time.
What lubricant to use for a door lock
Caring for the door doesn't consist not only in timely hinges' lubrication in order to prevent the squeak, it also goes for the door lock. If its regularly lubricated you will hardly face a jammed or wedged lock which is difficult or impossible to open. That is why you should not forget about regularly locks' lubrication.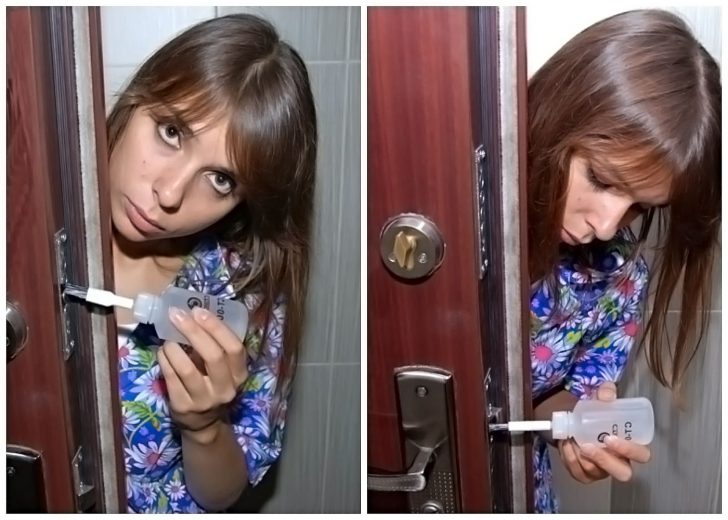 But still what lubricant to use for its optimal work? Basically, for locks and door hinges the same lubricants are often used. So, dry lubrication of powdered graphite, which is poured into the disassembled lock or right in the keyhole is generally used for lubrication of lever locks.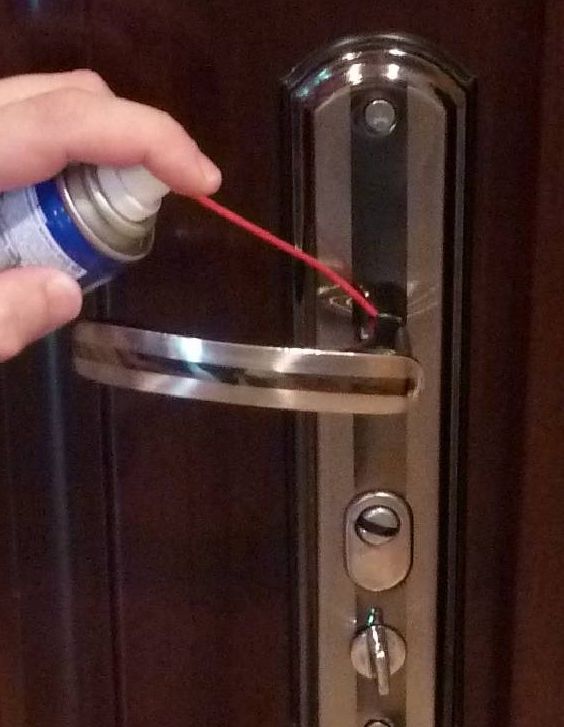 For cylinder locks machine oil, universal silicone grease or the liquid already mentioned used for different mechanisms care as WD-40, will suit well.
To lubricate a lock, the keyhole must be pre-treated with a cleaner: pour it inside the keyhole and turn the key several times. After the cleaning, some lubricant should be poured into the keyhole, the most convenient way to do it is to use a pump-action spray equipped with a thin plastic tube.