Country-Style Kitchens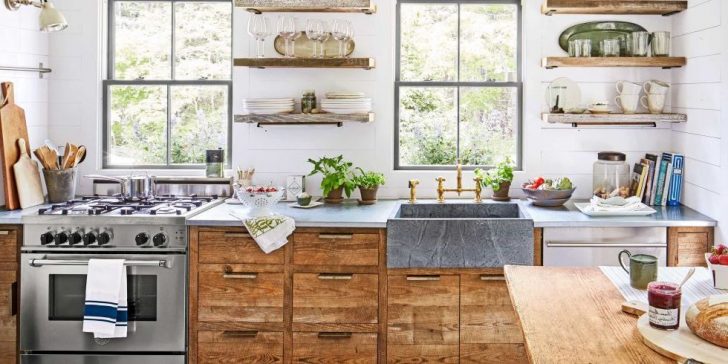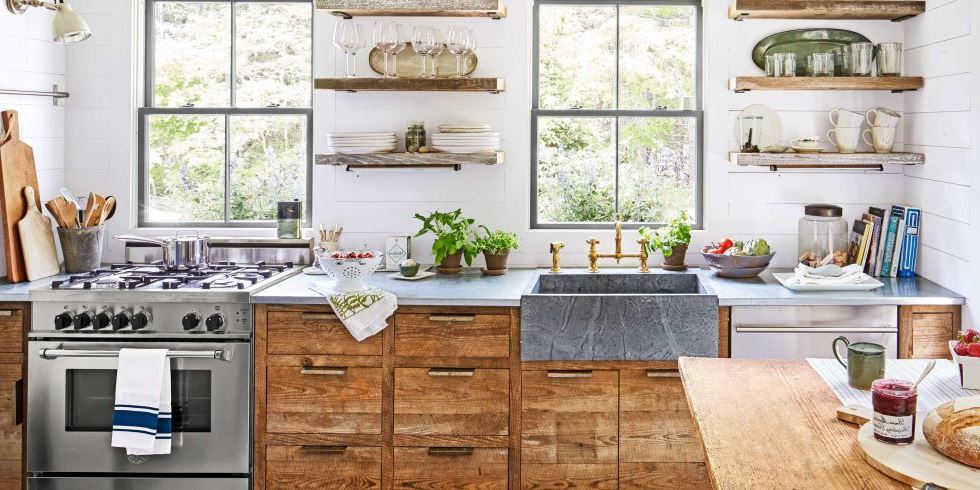 We continue to review the options for country style decorating.
Next in turn today is a country style kitchen, the interiors of which contain features of many other eminent styles (as you can see it on the photos below). Besides, they are not restricted by any rules of decoration.
You can see it with the naked eye that the country style has much in common with the English style, Mediterranean or Provence style.
This style is the best option for those who want to decorate a kitchen in country style with rustic notes, and to feel free in choosing elements of its interior.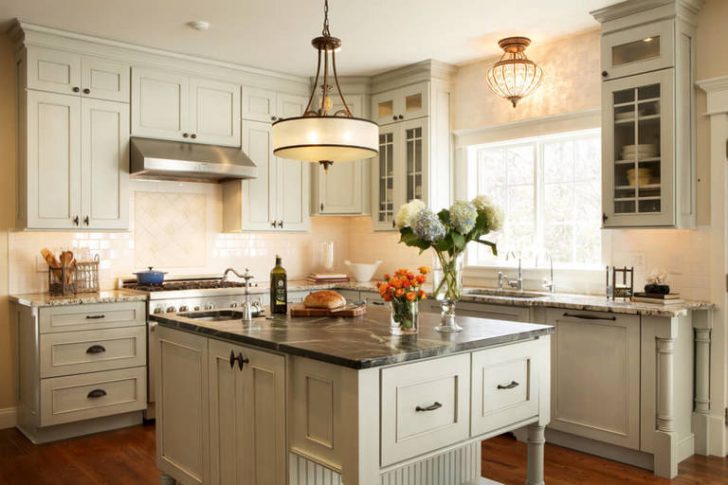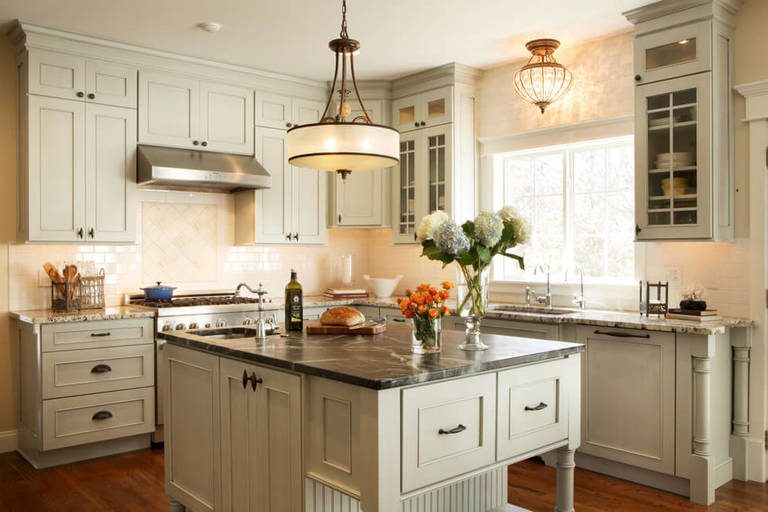 Nevertheless, we recommend you to follow some non-strict rules of decorating:
The furniture should be simple, naturally or artificially aged.
Choose the pastel color scheme: slightly faded, but not boring.
Wood-, stone-, brick- or tile- finishing is welcome.
Open shelves for kitchen utensils or decorative items.
Rural accessories - preserves, dishes, vegetable bundles, etc.
Vintage or "antique" items will be perfect.
Minimal usage of plastic, glass and glossy metals is allowed.
Practicality, sincerity and coziness – are the most important components here.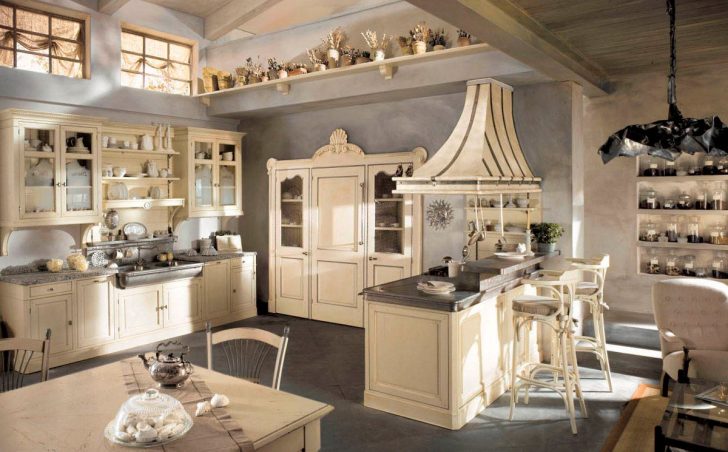 Graphic pallet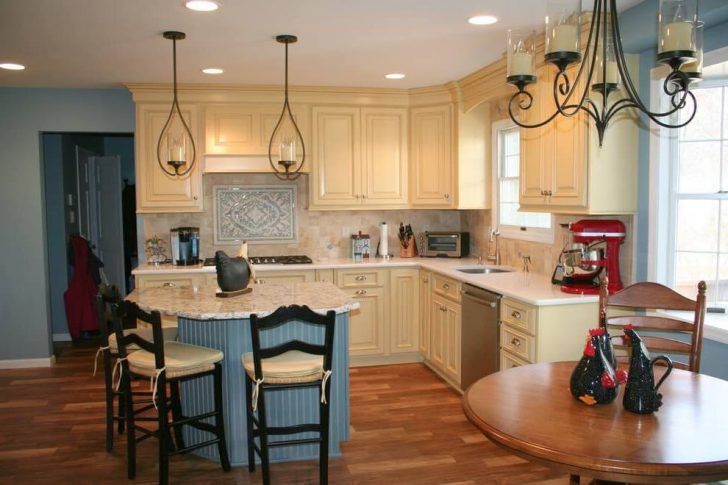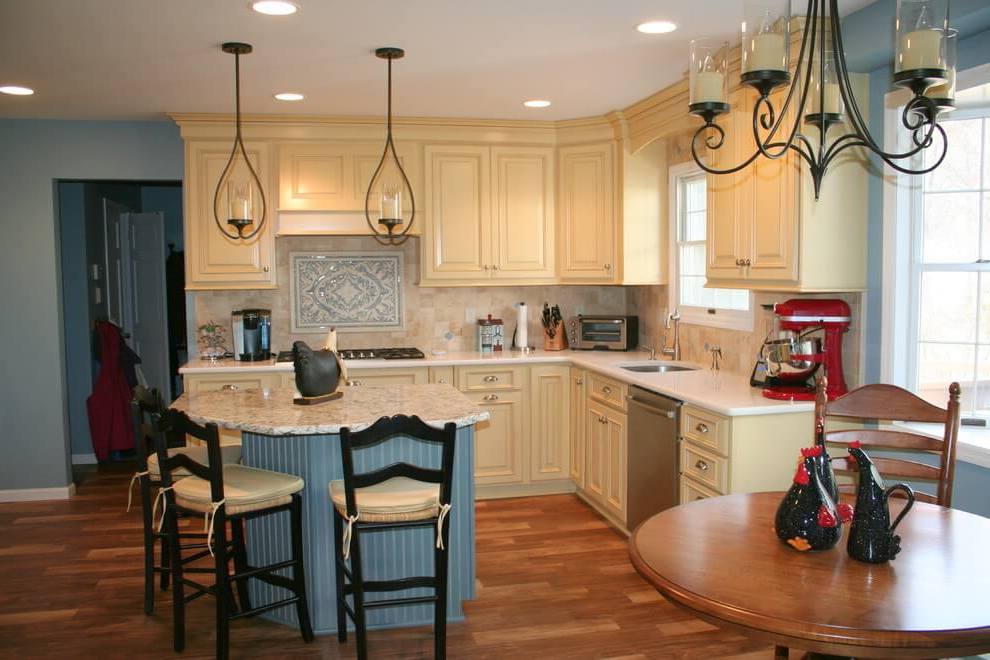 Avoid any bright colors of furniture and walls. Pastel colors are considered to be the most appropriate and can be enhanced with the help of textiles and accessories of more saturated colors.
Furniture set color - any pastel colors; a natural wood texture of any shade and species, covered with matte or glossy varnish.
The walls are decorated in light colors - white, sand, baked-milk color, light shades of olive, blue, yellow or gray.
The floor should be preferably covered with parquet, laminate or light floor tile.
Additional color accents are placed due to various textile elements. We will describe it further.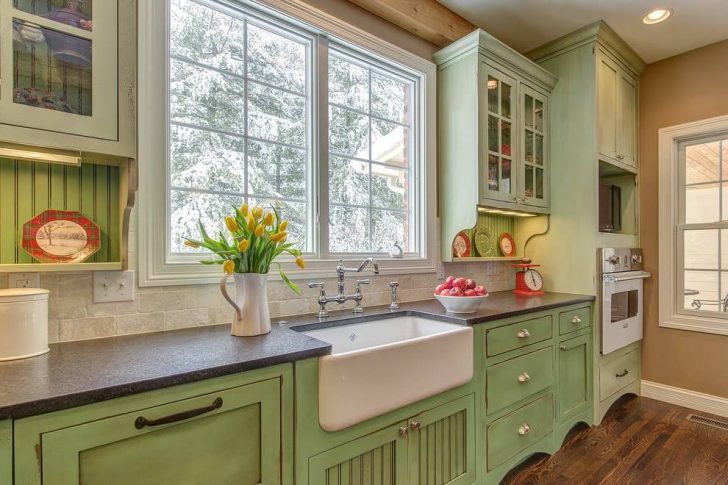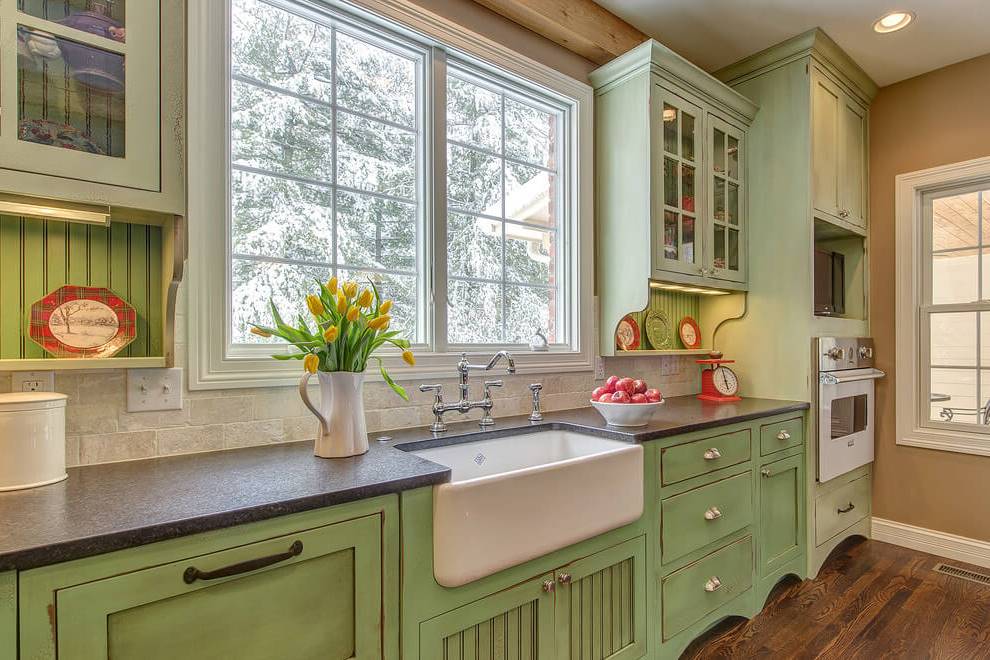 Examples of some color combinations, which can be used in the interior of a country style kitchen, are given below.
Pictures of country style kitchens
Walls
You must be very creative and careful while decorating your kitchen in country style. Especially if it comes to the walls finishing. There is a certain number of options, which are considered to be more suitable here:
Painting. First of all, it is necessary to prepare a perfectly flat surface; otherwise any defect will be clearly visible on the wall. Selecting a color, give preference to warm pastel shades: cream, beige, light brown. Olive and green colors are also acceptable, but they should be close to the natural tone as much as possible. You can also use white and light-gray color as an alternative option.
Decorative plaster. With its help, you can easily create a texture that will make a design simple and old-fashioned as though the surface was decorated not quite skillfully by the owners themselves.
Tile. It can be used not only for splashbacks decorating. If you want, you can lay out some semblance of panels in lower part of the wall. For these purposes, both ceramic and sandstone tile are suitable.
Wallpaper. As far as a kitchen is concerned, pay your attention to the quality of the wall covering. It should be resistant to temperature changes and high humidity. The non-woven and vinyl wallpaper are the best solution.
Wooden panels. Using wooden panels, you can easily recreate rural life, full of fireside comfort and warmth.
Brick. It looks very natural and original, but remember that a completely brick-faced kitchen will seem too tight. It is better to combine a brick masonry with wood.
Look how stylish the country style kitchens are. It is easy to notice that every interior includes the wood usage: lacquered, painted, untreated. Being perfectly suitable for this style, it emphasizes its originality and uniqueness.
Floor
This rustic style is, by far and away, one of the best solutions for spacious country houses rather than for urban small apartments. However, if you use all interior elements optionally, you can recreate the country atmosphere even in a very small kitchen.
Wooden boards, natural stone and ceramic tiles - are the materials that can be used to make the floor in a country style kitchen.
If you do not have enough money to purchase the natural wood materials, they can be easily replaced by their cheaper analogues: a parquet board, laminate and even linoleum.
Today it is easy to find those materials, which are superficially similar to natural ones. In particular, "wood-like" linoleum is a very common and popular product.
Give preference to modern covering of high quality and durability. It looks better and will last you long enough.
The acceptable analogue of natural stone is porcelain stoneware. This is a very common product, presented in a wide range and can be found in every building material store.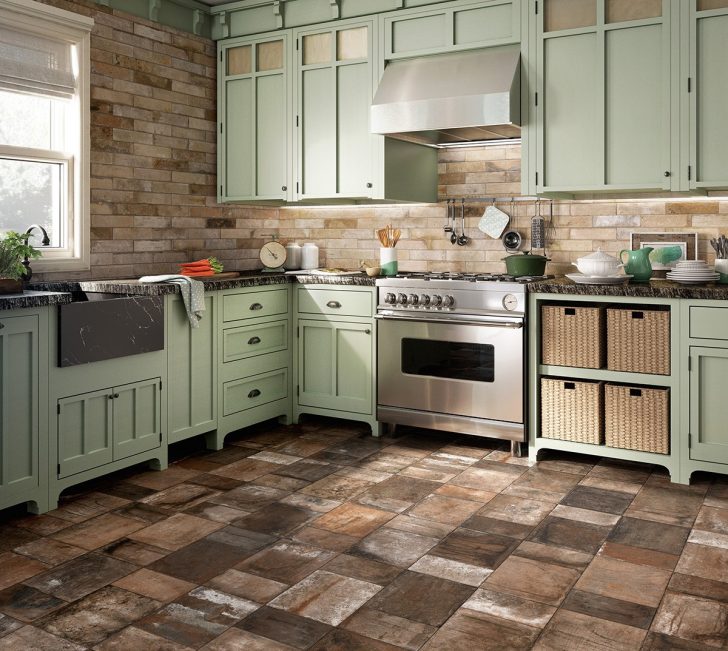 For kitchens combined with a dining room or living room, it is better to use the following combinations of materials: tile or stone in the working area and wood in the dining area.
Patchwork, knitted or other homemade rugs will add comfort and coziness to the interior.
Ceiling
Several options are available for ceiling design:
Whitewashing. This method of decoration will look perfect in country style. It is not necessary to level a surface before whitewashing,. The country style decoration – is a design trend, which encourage a rough, slightly cracked and textured surface.
Stretch ceilings. This is a practical modern solution, characterized by reliability, durability and practicality (with proper handling). Choose only matt shades.
Wood. With this design of ceiling, you will inevitably turn a city apartment into a cozy rural house. Dark shades of material should be used in rooms with high ceilings, while for sufficiently low rooms it is better to use light colors. The most available material for those who prefer saving on prices is the lining boards.
Choosing the optimal solution and materials for country style decoration, pay your attention to numerous interior photos. There you can find many ideas, which can help you create the cozy and comfortable atmosphere in a modern city apartment.
Kitchen Set & Furniture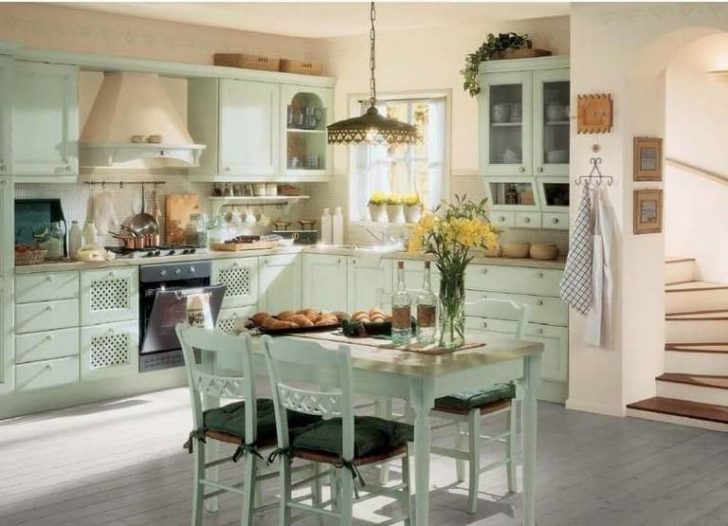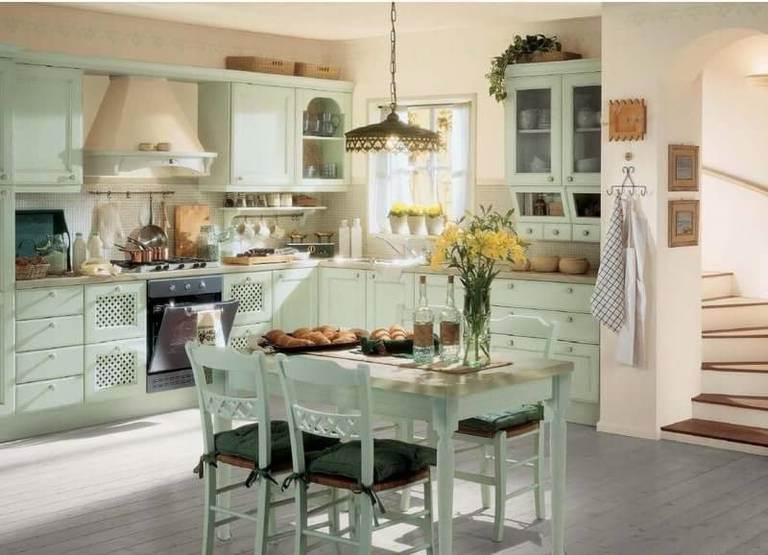 The requirements for the best furniture solutions are:
Material - wood (is recommended) or dyed medium-density fibreboard (MDF).
The signs of rubbing, patina, etc. are welcomed.
The fittings should not be glossy, but preferably metal with porcelain or ceramic inserts.
Choose the shape and size of your dining table based on the general interior of a room. If your kitchen is small, we recommend you to choose a sliding table in case of guests' arrival or family gathering.
Chairs should be made of wood, with light contours and have slits in the backs. Massive and extra-heavy chairs are inappropriate.
There are no strict requirements for the design of household appliances, but we recommend you to hide them behind the facades.
The tabletop should not be of dark colors (artificial stone or MDF).
Splashbacks should be preferably made of tiles. Glass or plastic splashbacks are not suitable.
Choosing Textile
Textiles play no less important role than a furniture set.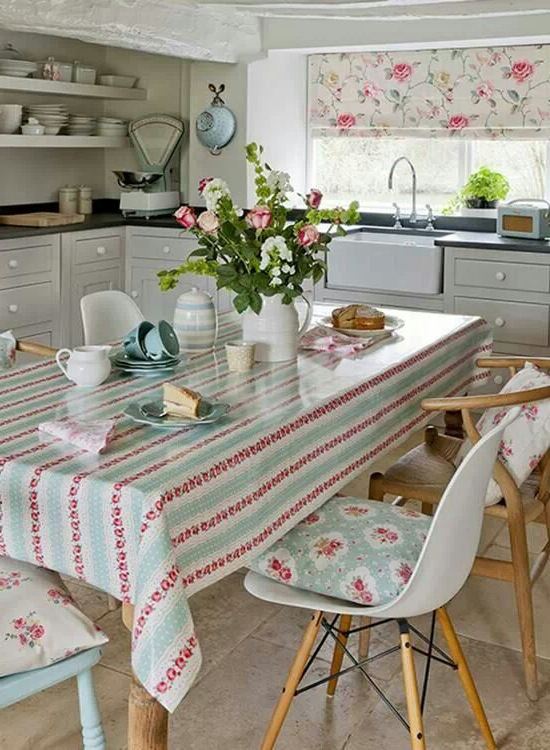 It helps to turn any boring kitchen into a cozy room full of gastronomic miracles - the territory of a perfect hostess. Some recommendations are given below:
Material - cotton, linen or hemp. No polyethylene;
Choose light cheerful colors for curtains, they should be without any shiny elements;
Tablecloths, napkins, towels, aprons can be varied from white to bright colored with different patterns and ornaments on them;
Textile seat pads and chair covers.
Creating Comfort
In final stage, you need to place different additional accessories, without which it is impossible to imagine any country style kitchen.
It is great to put on open shelves some beautiful porcelain or ceramic plates, saucers, vases, clay or wooden statues, photo frames, books with recipes. Jam jars and canned vegetables; various vessels and other structures for storing cereals or sugar; bunches of onion are also welcome.
Do not hesitate to plant your kitchen - perennial natural flowers in clay or metal pots are great solution. You can also put them in enameled jugs or bottles made of colored glass.
The nice addition to the rustic atmosphere are the décor items with chicken, ducks, turkeys and geese depicted.
Lighting
The real village houses could never boast of large bright windows, that is why the natural light deficiency should be supplemented with the artificial light.
Separate lighting devices should be placed above the furniture set (built-in spotlights) and a dining table (a chandelier).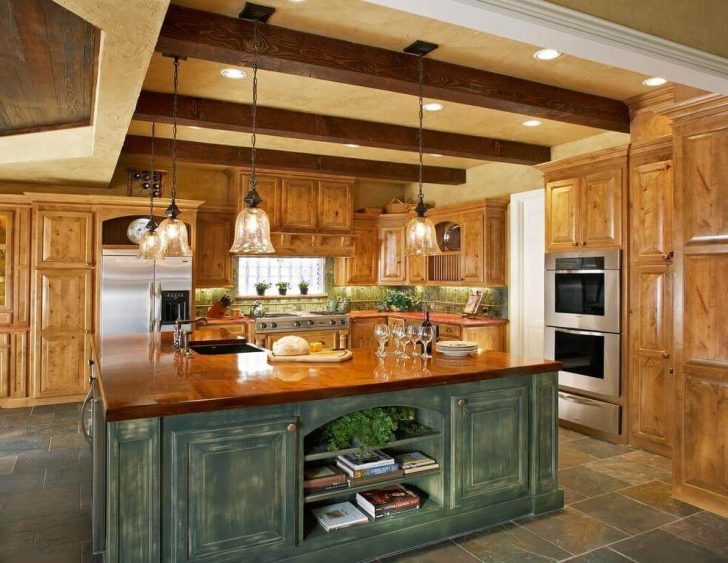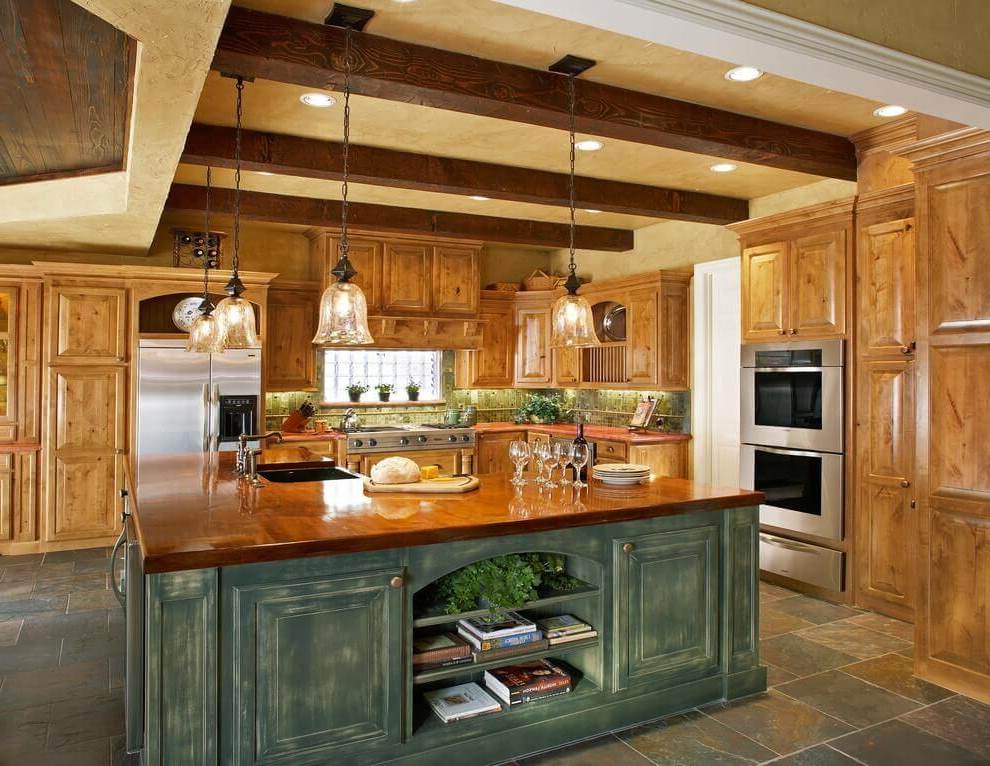 In order to emphasize the beautiful dishes and decor items displayed on open shelves, use the LED strips.
To create a cozy and slightly romantic atmosphere, you can install additional sconces in the dining area.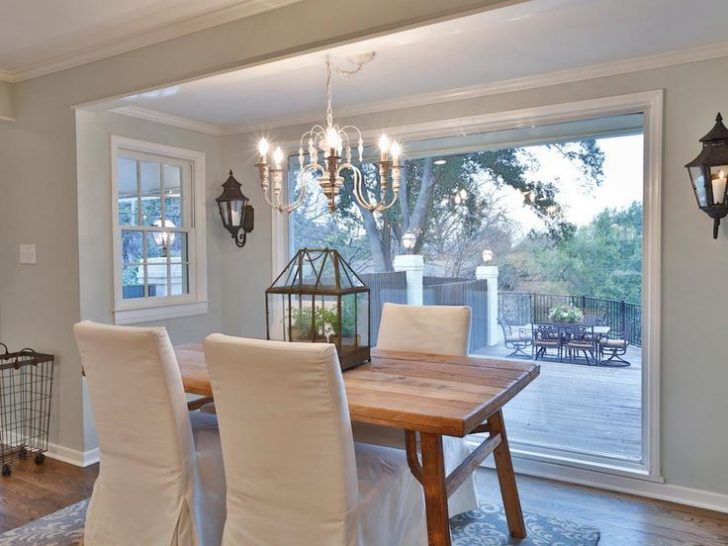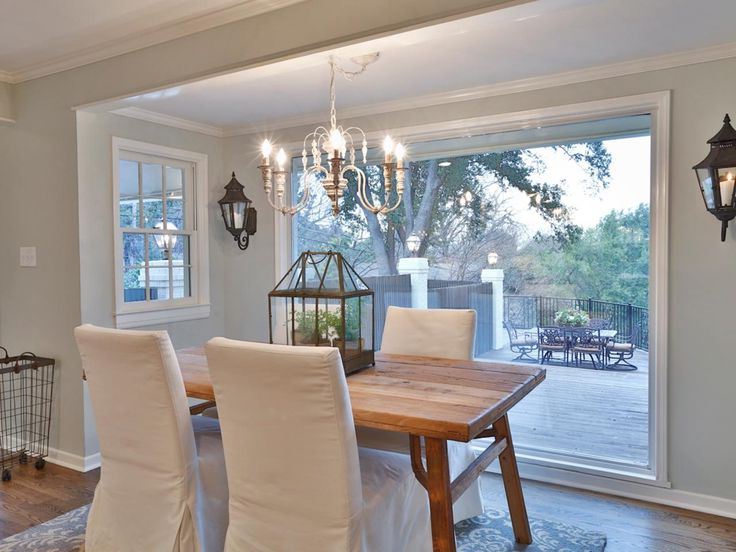 Such devices should be placed slightly below the head of a person sitting at the table, so that the outgoing light does not blind the eyes. Give preference to models whose plafonds are made of frosted glass.
For kitchens, combined with the living room, floor lamps with fabric lampshades are ideal.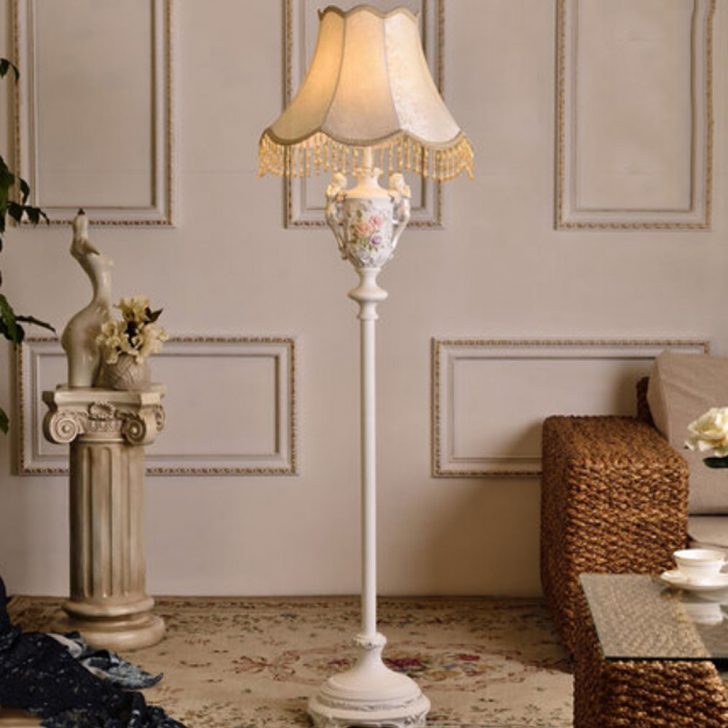 The choice of a central chandelier depends on the size of a room and the height of its ceilings. For spacious rooms, the models imitating candelabra with burning candles will be an excellent solution.
For small kitchens choose pendant lighting fixtures in the form of a street lamp or any other devices with an "antique" design.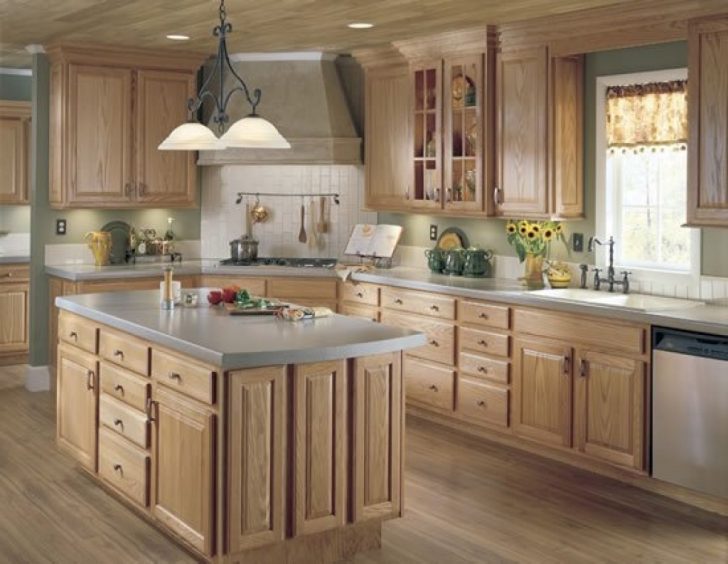 Give preference to warm glowing lamps. They will make the surrounding space extra comfortable. Under their lights your food will look much better.
Now you are familiar with methods that can be used to decorate the interior of your country style kitchen. Such kitchens are becoming better year in year out, because of the antiquity that add a special authenticity to the interior. Some changes can be constantly introduced into interior, making your kitchen comfortable and unique.