High-Tech Kitchen
High-tech style came into existence at the turn of the 20th and 21st centuries and quickly took one of the leading positions in modern design sphere.
New materials, comfortable layout; simple, but beautiful forms of high-tech kitchens make them look extremely modern and contrast sharply with other kitchen designs.
MAIN FEATURES
The high-tech main features:
Simple lines. Simple geometric lines put special emphasis on the high-tech interior. Such a simplicity provides the interior not only with natural aesthetics, but also with the operating convenience. Due to this, you can save a lot of space by comfortably arranging a kitchen set, dining furniture and other interior elements. It is especially relevant for corner kitchens.
The use of glass, plastics and metal. It is due to the latest design trends and modern household appliances, these materials are so popular nowadays. Glossy glass looks spectacular and visually expands the interior of your kitchen. Surfaces made of high-quality plastic can be of any shape and color, while metal furniture complements an overall urban ensemble. In a kitchen-studio version a bar counter can be made of any fancy shape by combining different types of materials.
Decentralized lighting. This type of lighting creates the effect of a spacious bright room, even if a kitchen is relatively small. It is usually achieved by using of spotlights located throughout the room. You can also use LED strips, small halogen lamps and soffits.
A color scheme, furniture and textiles, decor elements and accessories are the most important components of the high-tech kitchen design.




COLORS
Walls. Choose a high-quality paint of light colors. The most preferable colors are white and different shades of gray.
Some walls' sections can be done in two contrasting colors, for example, red or black. This technique can strengthen a particular color, place or even an object in a kitchen.
The best color combinations recommended by foreign designers are shown on the pictures below.
Floor. In high-tech kitchens you can often find self-leveling floors with subsequent grinding. This interior solution has several advantages: practical and durable coating, full conformity with urban stylistics, ease of handling.
If you prefer tiles or laminate, remember one important requirement - they should be glossy. A color scheme should include light cold shades.
Furniture colors. Here you are spoilt of choice, but remember that the color of facades should be glossy and you can combine no more than 2 or 3 colors together.
The most popular are the following combinations: black and white, black and red, orange and gray. Besides, you can strengthen the overall palette of your kitchen by furniture, chandelier and lamps.
FURNITURE AND TEXTILE
Despite the fact that furniture must be multifunctional, it should not be deprived of grace. But functionality is not the only factor that should be taken into account, remember about its comfort too.
Some elements can be made of durable glass. A dining table, for example, should be made of transparent or frosted glass with metallic legs.
Rule out all excesses, which usually spoil an overall picture. Do not place too much furniture. Drawings and patterns on furniture are unnecessary details.
All surfaces should be perfectly smooth, with glossy shine. Avoid all ornate geometric shapes.
Textiles and textile goods are practically not used. The only exception is windows' decoration. Although curtains in high-tech kitchens are relatively rare phenomenon, they must be monotonous and not bright.
Too heavy or too light curtains do not fit into the big picture. If you still want to hang a few curtains, choose curtains of medium density. In practice, the blinds are the best solution. They can be both horizontal and vertical.
DECOR AND ACCESSORIES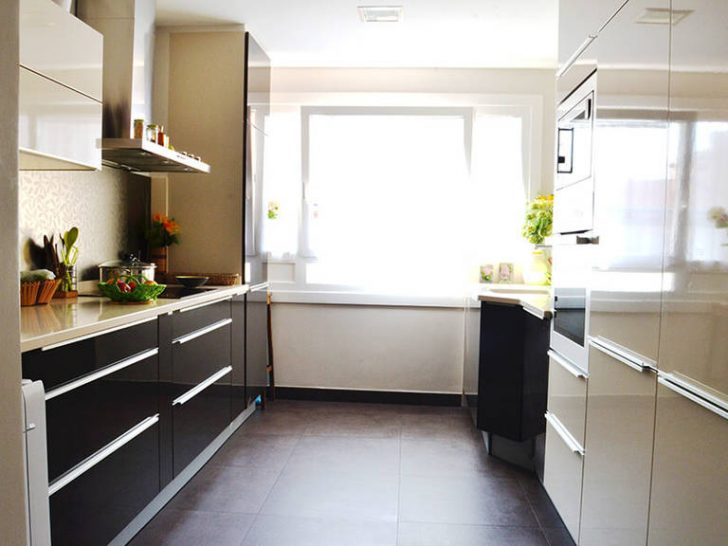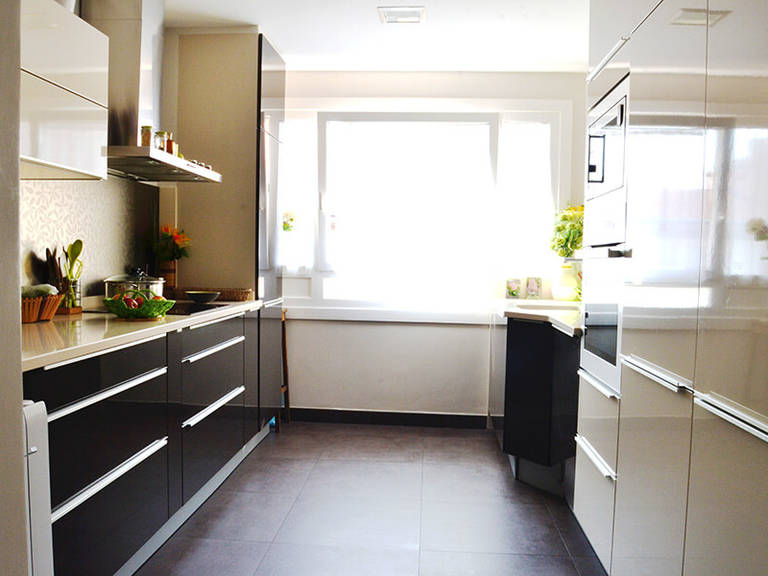 Due to its natural minimalism, this style does not assume a large number of accessories.
Walls often remain empty, but electronic wall watches are acceptable, as well as unusual wall lamps and metal dishes as elements of decor.
Some designers use space posters or unique works for walls' decor, but the main thing you should remember is a sense of proportion.
Lamps can be built into walls, ceiling or even furniture. Due to their large number and decentralized location, you can make a room much brighter even with minimal natural light.
Working area. Glass splashbacks are an indispensable part of high-tech kitchens.
Household appliances should be located in such a way as to leave a working area almost empty.
Small kitchen appliances can be both hidden behind facades, and left on open working surfaces in the function of decor elements.
Dinning area. Due to the rational use of the entire kitchen area, a dining table can be either square or rectangular and made of durable glass. Chairs should be made of plastic or metal.
High-tech kitchens are the best choice for creative people with a modern type of thinking, for people who are attracted by technological future. High technologies can also please those pragmatic owners, who are accustomed to appreciate the convenience, practicality and modern technological achievements.
High-Tech Kitchen Pictures