New Year Door Decoration: Ideas and Techniques
How to decorate the door to the New Year is a question which becomes relevant long before the holiday. Despite the fact that rooms of a house are often designed in the last week of December, people prepare for this event beforehand. It is necessary to purchase a new decor, to think over its placement. By the way, you can make some kind of decorations by your own forces.
Snowflakes and tinsel
The most popular and at the same time the easiest way to decorate not only a front door and walls, windows, furniture and other interior items is to use snowflakes and tinsel. All this is required not a lot of costs while your imagination is not restricted.
Tinsel can be formatted in the form of a New Year tree. This technique is most often used. It is not necessary to take the green tinsel, here color is not important. Decorating for a New Year tree can be made of beads, paper, small unbreakable toys, candy, tinsel of a different color, and so on.
What is a New Year without snow? Embellish a decor using snowflakes. Stores sell ready-made ones, but it is much more interesting to do everything with your own hands. For this purpose paper is used. From it snowflakes of incredible beauty are cut or three-dimensional version is created. Another way to make a similar design for New Year is to use a wire, tinsel, glue and glitter.
Pine decoration
By New Year you can smell pine almost in every house. If you are followers of artificial forest beauties, it is not necessary to defy your principles. You can use some sprigs of pine or fir.
Note: fir tends to flake when drying, so such design will not last long. It is best to use pine or other evergreen trees and shrubs.
It is easy to make such New Year decoration to the door with your own hands. From sprigs you can make a wreath, a unique bouquet or just hang it on a front door. It is necessary to decorate it with toys, ribbons, glitter or artificial snow.
Wreath
The most popular New Year decoration of doors is certainly a wreath. And it can also be made with your own hands. In this way, a front door of private houses in Europe and America is designed. In some ways the tradition has taken hold in our country.
To decorate your apartment with a wreath you need to think over the method of its mounting. The best option is a hook on glue. It will not leave traces on a leaf, but it will provide a reliable fixation to a new object of decoration.
New Year wreaths are sold on New Year in almost every store. But it is much more interesting to make it with your own hands. For this purpose, different materials can be used, for example:
pine sprigs;
strobilus;
berries and branches of juniper;
dry twigs;
dry citrus fruits;
candies;
cloth;
tinsel;
ribbons;
toys;
nuts;
dried flowers;
etc.
Santa Claus
Traditional Christmas decoration is a figure of Santa Claus. This holiday can not be arranged without it and a bag of Santa Claus with gifts. So try to decorate your front door with it. The most popular option is the image of this character with wishes. It is convenient to attach it with adhesive tape, velcro or a hook. There are also three-dimensional models in the form of soft toys. In recent times, not only doors but also windows are decorated with a inflatable Santa Clause. Good mood for a New Year is guaranteed.
Snowman
Another way how to decorate a door to a New Year creatively is a snowman. This is another fun winter character. Its pretty easy to make with your own hands. There are several ways to create a snowman:
Band and thread. We need three bands of different sizes. Tie an end of white thread. Start winding a band, bandaging around edges, to obtain openwork circles.
Cardboard and wool. Cut out three circles of different diameters of cardboard. Glue them with wool and decorate with glitter and tinsel.
Cardboard and broken glass. Pour glue on cut work pieces, painted in white color. Strew them with broken glass toys and glitter.
Felt. To make a felt toy, you will need a special hook and step by step guide, if you do it for the first time.
Thus, you can decorate your house for New Year with another funny character.
Bell
How else to decorate a front door for New Year? You can hang a bell on it. This refers to a new type of decoration. To make this ornament with your own hands you need cardboard, thread, and other little things for decoration.
Cut the cardboard to form the bell.
Glue it and wrap by thread, for example, red and gold one.
Sprinkle with glitter varnish.
At the top make a hole and thread a ribbon, tie in a bow.
Decorate it also with small toys, pine branches, berries and other small items at your choice.
At the top make a loop, to make it convenient to hang a bell on a door.
Boot
Another version of a decor is boots or socks. Usually it is hung on a fireplace on Christmas. Nevertheless, the stylized Western-style decoration perfectly fit a New Year. You can create a new decoration with your own hands:
Make a basis of a cardboard of a certain shape.
Glue boots by red cloth.
At the top fasten ribbons, ornamental inserts, brooches in the form of snowflakes, bows and so on.
Hang it by a loop on a hook.
By the way, you can use rag products.
Garland
Best option to decorate a front door for New Year brightly is garlands. First of all, it is a flashing light. It is best to format it according to opening perimeter. If you want, try to decorate a door.
Note: Garland is energized, so be careful not to tighten a door by a wire. If a wire is damaged, the metal structure can hit you shock.
Decorations in the form of garlands of artificial pine branches, film and foil products, handmade paper bundles of Christmas toys and so on are also used for New Year.
Poster
You can decorate a house for New Year with images. It is not just about images with a winter landscape and fairy tale characters. The best Christmas decoration on a door is a poster with congratulations. It's very simple to do it with your own hands. It is not necessary to have artistic talent. You can do it with the whole family. Especially children like to draw such posters.
You can draw anything on a sheet of paper. This can be Santa Claus and the Snow Maiden and Santa on a sleigh pulled by reindeer. Draw a beautiful Christmas tree, dressed up with toys, snow drifts and a snowman with a carrot instead of a nose. Send congratulations and best wishes to all members of your family. Every year you can draw a new poster, it is so exciting.
Symbol of an incoming year
How draw the door to the New Year creatively? The best way to encourage good luck into the house for the whole year is to decorate the entrance to your apartment by a symbol. To buy this design is not difficult, because a variety of postcards, posters depicting the mascot, toys and so on are sold in the shops. If you wish, you can make it with your own hands, for example, drawing on paper, cut appliquéd ornament and sew from pieces of fabric. Christmas mood are provided. By the way, given the fact that each time using a new symbol of the coming year, you will decorate your doors by unique decor.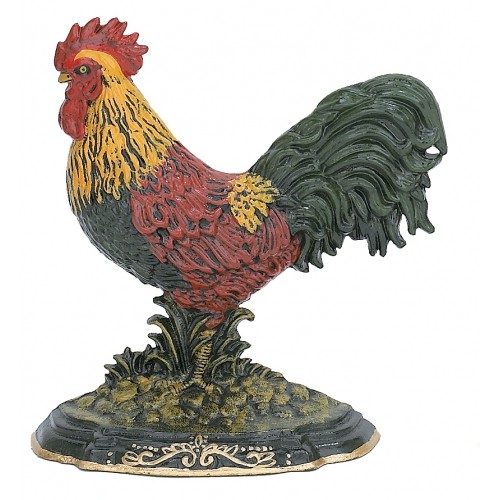 Design of an apartment for winter holidays is the best way to waft Christmas mood in a house. A decoration for a door, you can easily buy at a store or make with your own hands, it is much nicer and more interesting.