Decorative Curtains in Doorways by your own hands: Ideas and Techniques
Instead of the traditional doors in an interior, you can use curtains on a doorway. This design has its advantages and disadvantages. In addition, it should be noted that there are many variations of curtains for doors, so you can choose the most suitable for any style of interior.
Advantages and disadvantages
Decorative curtains for the doorway are mainly used as a self-completion, without a door leaf.
This variant of design is popular for limited squared space.
Original curtains on a door can be in apartments and private houses, in a classic or ultra-modern interior. This is not surprising, because they have a whole lot of advantages, achievements of which is sometimes the only true way out of the "repair" situation.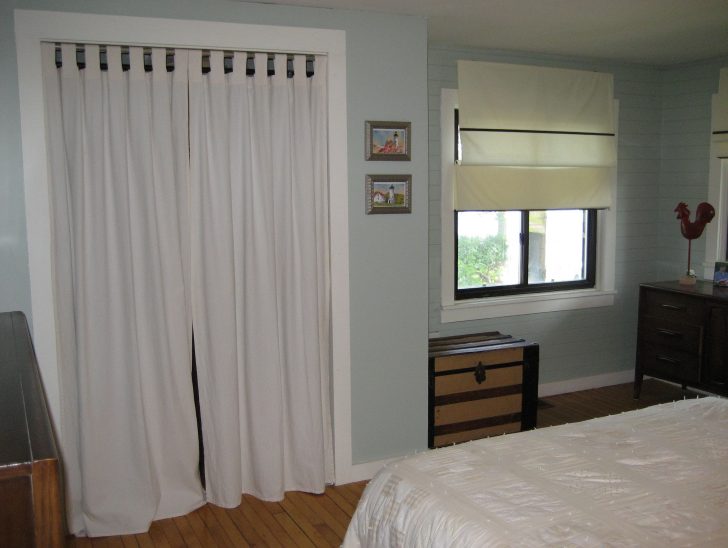 Advantages of curtains in a doorway:
Appearance. These products are highly decorative and are able to transform an interior, add a special touch of style and ease.
Cost. The cost of curtains is much smaller than for a full door.
They are suitable for any shape of opening. They can be adapted to direct opening, an arch or a complex curved design.
You can make it by your own hands. It is not difficult; besides, it allows you to express your individuality in this product.
Wide range of materials. You can make such curtains from almost anything: plastic, PVC, textiles, wood, etc. Curtains of bamboo and straw are especially popular.
A visual extension of the space. The lack of solid partitions allows you to create a visual deception due to the penetration of light between two rooms.
Practicality. Space saving due to the absence of an opening leaf can be used to benefit the vacant area in a room.
Disadvantages of curtains on doors:
You can not isolate the space. It is not possible to create an atmosphere of privacy, as well as reduces sound and thermal insulation. In addition, there is no obstacle to the spread of odors in an apartment.
The limited sphere of application. Not all rooms the curtains would be appropriate. Especially it concerns the bathrooms, bedrooms and a working room.
Consider the variety of curtains in a doorway and how they are manufactured by their own hands in detail.
Wood curtains
Most popular curtains for doors are made of wood, for example, bamboo stalks. This option is perfect for the interior, in which furniture and decoration have wood texture. Also pay attention to matching colors.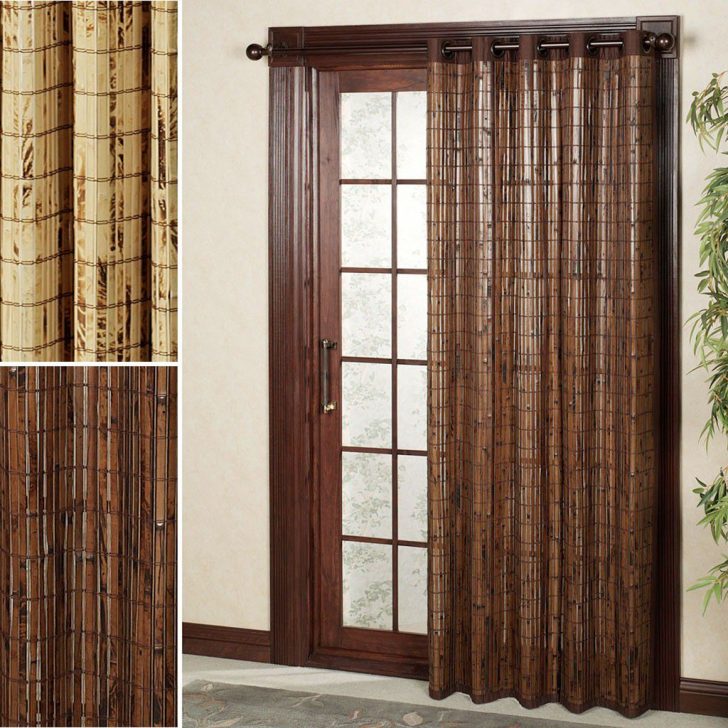 The advantages of curtains for doors made of wood or bamboo are its naturality. Depending on the design, you can fit them to almost any style.
There are a lot of variants of such curtains. They can be made of wooden beads, tubes, hollow stems of bamboo segments, bowls and other elements. You can find even the use of fragile herbal elements, including straws.
To install these curtains in a doorway a wooden cornice is used. It can fill directly over the top of the aisle. Each strand is attached with metal pins to a crossbar. If necessary, some of them can be removed, clearing the space for a way for the smooth passage.
For the manufacture of curtains for doors with your own hands, any small pieces of wood can be used. You can purchase ready-made ones, or carve them with your own hands, if you have skills and desire. To connect you can use nylon thread, fishing line or metal-stud connectors. For decorative use paint, stain and varnish.
Textile curtains
Textile curtains on the door look equally good in the classics and modernity. This design can be extremely varied:
curtains;
roller doors;
magnetic curtains;
lines.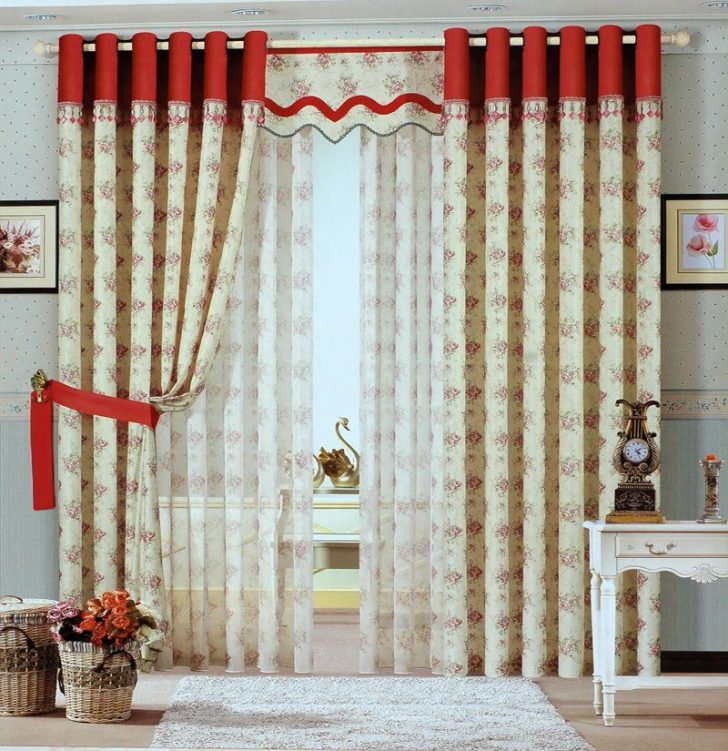 Such variations of curtains on a doorway allow you to create greater comfort and allow partial isolation. At the same time it is easy to find the right curtains on a door or to make them with your own hands. To do this, usual curtains, all segments of the fabric, screens, and so on will be suitable. It is enough to fix them on a ledge and hang above a doorway. Roller doors can be fixed directly to a doorway and be complemented by side guides.
Magnetic curtain door models are not only decorative, but also functional, as it allows you to close a gap through magnetic strips.
Line curtains for doors are the most open. They can be made with your own hands from ropes, ribbons, yarn and complement them by various decor.
Beaded curtains
In modern buildings curtains made of beads are more often used on a doorway. There are mainly plastic, but you can also use glass, wood or metal as a supplement.
Typically, these curtains on a doorway are designed with major elements, but you can take beads with sequins.
They are made with your own hands on a similar principle as curtains on doorways of bamboo. Beads are strung on thread and fixed at a given position by fittings or nodules. Fomatting can be simple or create a pattern with the installation of beads on a specific point relative to each other. For such curtains for doors any color can be combined.
Use of curtains in a doorway instead of a door is great variant of space-saving, and their manufacture with their own hands is a way of creative self-expression.