Arch in Kitchen: Types and Installation
Table of contents:
Arch is one of the oldest architectural techniques, a unique shape design which allowed to leave its imprint virtually on all historical stages of human existence. They have not lost their importance in the modern 21st century because of the universal geometry which combined decorative function and practical convenience. The arch multifunctionality allows you to unite different rooms and it visually indicates their boundaries. Thus, serving as a door, an arch provides a convenient connection between rooms.
Kitchen arch instead of a door
Arch in a kitchen, installed instead of a door, is an original design solution for any living areas and it is regardless of their size. In small apartments an archway significantly expands visual space, and in the so-called studio apartments it performs the separation function, allowing you not to use bulky, heavy slab.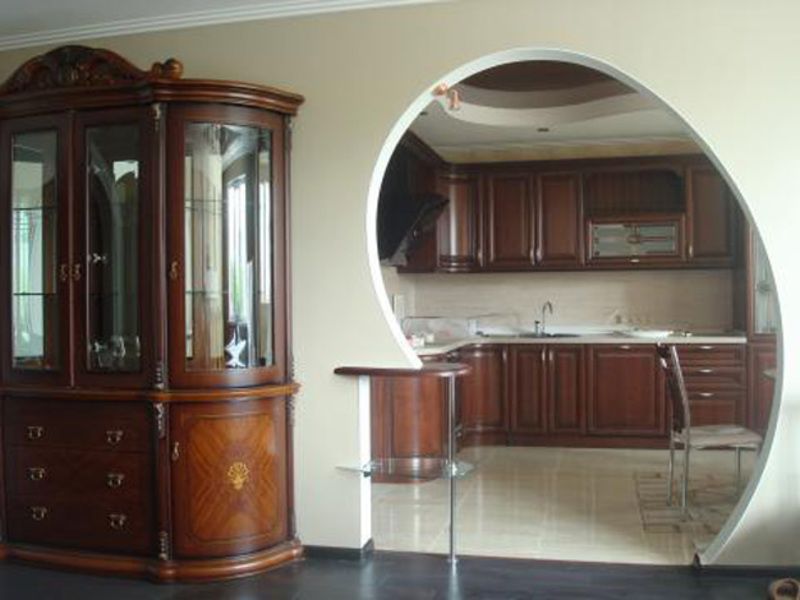 The use of this variant is not without reason can be considered a classic of the genre. After all, this is the best affordable way and it is not a problem to do by own forces. In this case there is no difference whether there is a connection with a hallway or a room. All variants are equally effective and useful in their own way.
Importance of kitchen arch in the contexts of the door message
Under the conditions of the existence of a sufficient number of layouts of apartments there are several main rooms which are connected to the kitchen:
An arch between a kitchen and a living room is just made for convenient remote communication. It is optimally suited for those kitchens, which, because of the small area, can't put in more than 2-3 persons. And according to practicality such opening has the great edge over a door which occupies scarce space.
When a passage with an arch connects a kitchen with a hallway, it enables you to watch a lot more space and transform the interior of an apartment.
An arch made by own forces may be more than just a nice passage of a hall to a kitchen but also may have the functional load (shelves for figurines or flowers, niches for useful things and so on).




Utility of plasterboard
The basic material for the manufacture of arch is plasterboard. Its use does not place any restrictions on the configuration of an arch. An important advantage of plasterboard is that if you have basic skills of working with the material, you can make an arch by your own forces.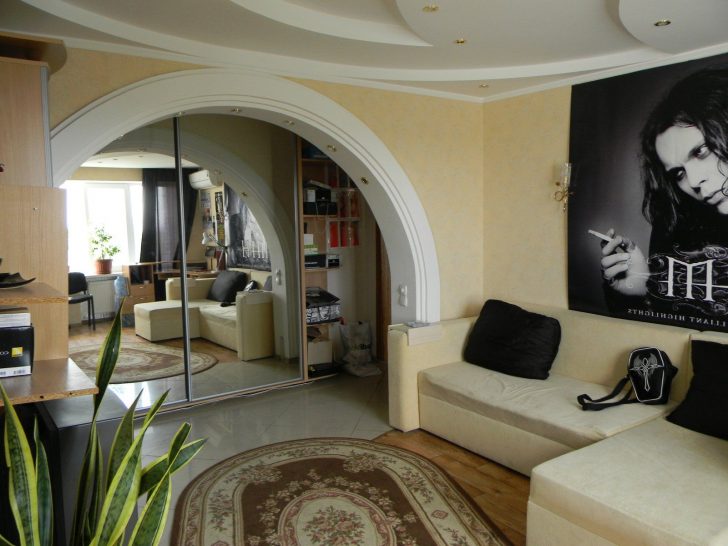 The uniqueness of plaster can replace usual wooden doors, and applying creativity it can make a passage of a completely different quality level.
Pre-planning
On condition that all the nuances and details will be studied thoroughly, it is not difficult to make arched connection of a kitchen and a hallway or a room by own forces. First of all, be sure to determine size, shape design and also take into account the individual characteristics of planning.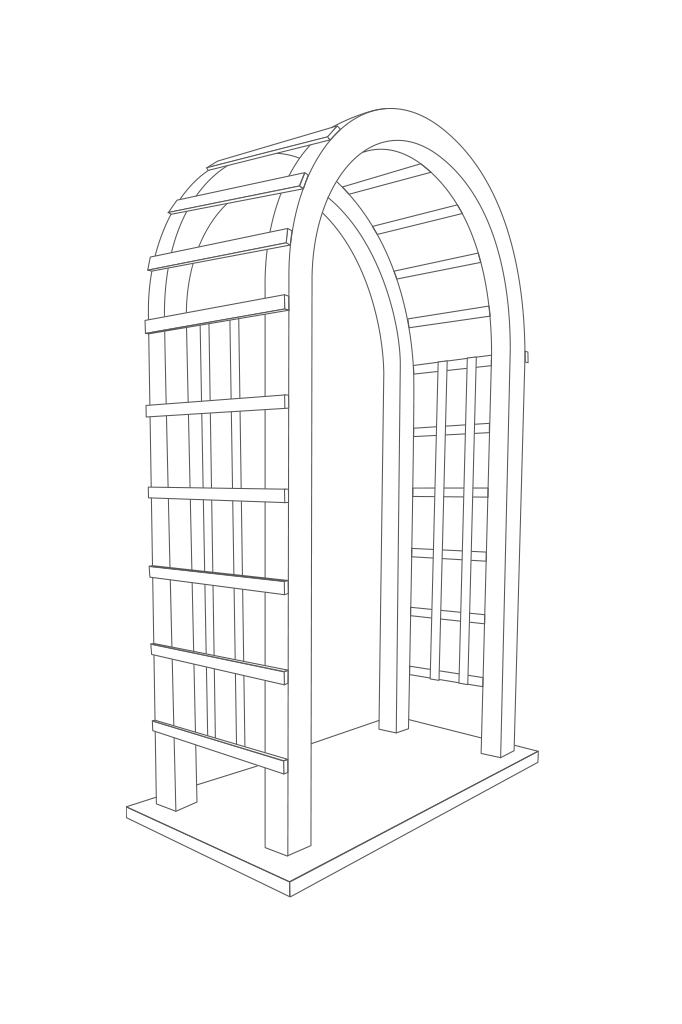 Advice: An arch installed instead of a door should not have too steep slope because of significant complications of finishing material attachment.
Choice of an arch style
Classic style - an arch made by own forces must have an index of the radius which is equal to half the width of a doorway. Its geometry must be different in firm rounded form. The construction with broad and bulky dimensions would look best of all;
Art Nouveau visually resembles a classical arch but instead of oval rounding it has a coffering in the form of an ellipse or trapezoid. The function of decor is fulfilled in the form of stained glass mosaics, painting and so on.
The asymmetric style is the best variant for low kitchen passage. It is advisable to make an arch of this kind in rooms with large area.
Oriental style is characterized by rather complex lancet forms. It doesn't need decorative works, as it itself has a very stylish look.
Portal - an arch design is characterized by a rectangular form. It is optimally suited for modern design "high-tech", a special demonstration of all the advantages is seen when connecting to a kitchen with a hallway.
Combination of a kitchen arch with a bar counter
Spacious kitchen with an installed bar counter under an arch is particularly popular. This design is available in two variants:
If there is a sufficient amount of kitchen space. Then an arch which separates a kitchen into two blocks will be installed not in place of the table but a bar counter.
Installation of a bar counter is in a kitchen passage, on condition that it is a very large size. Moreover, a place to enter should remain.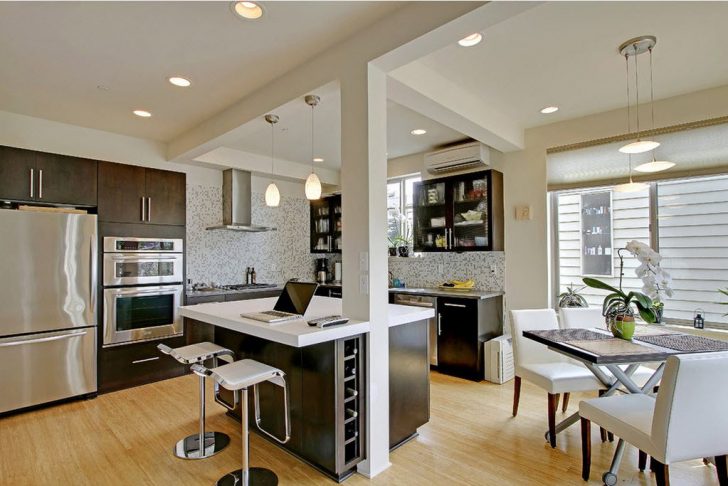 Advice: Depending on the selected size of an archway, if technically possible, a method of height and width increasing of a doorway is used.
The construction of an arch by own forces using plasterboard:
Preparation of a metal profile for an arch and its fastening with anchor plugs and screws. With the help of a knife for metal a leaf must be cut into three parts. The length of one of them must correspond to the distance between walls, as it is fastened to the ceiling passage. The remaining two parts is the height of an arch.
Making of an arch body form. Component parts of a certain size are cut from drywall. Utility knife, piercing saw are used for cutting. Instead of them, in extreme cases, a thin, sharp handsaw can be used.
Fixing of cut plasterboard pieces to a profile frame.
Advice: make sure that the arch details attached with screws are set up and put on a level with each other.
Fastening of a front arc-shaped strip. This element is made of the leaf remains. To give it the desired shape you should make a number of notches on skirting boards. Then you should carefully bend it.
A front strip is cut from plasterboard. It is much more convenient to use special, flexible, easily get bent, arch plasterboard.
All joints are rubbed and filled with putty aligned filler overwritten.
At the end coating of decorative elements occurs.
An arch in a kitchen is an important design method which predetermines the structure of a room because of design features of forms that can easily be done from plasterboard by own forces. An arch serves as a universal passage from a kitchen in different adjacent rooms.