Veneer doors, what is it?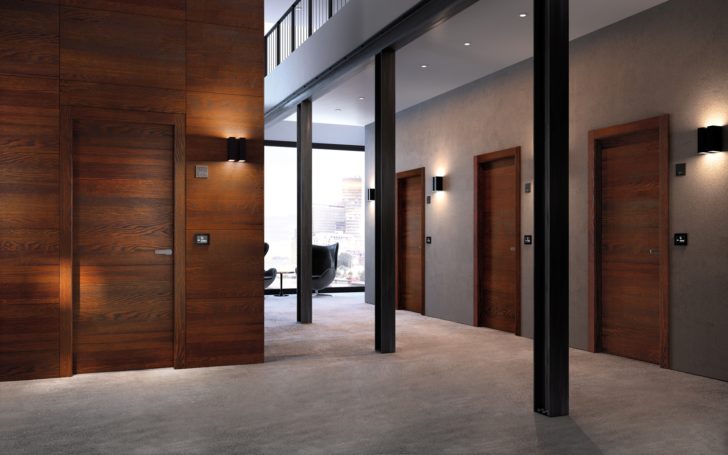 It happens very often that those people, who make repairs with their own hands, collect useful information on it from consultants, stores or ordinary citizens who already have such an experience, hear advice to buy veneer doors or finishing materials from veneer. Moreover, both as an argument justifying such a recommendation say the same thing:
products made with using veneer, have a respectable appearance;
have good qualitative characteristics;
are much cheaper than analogues, made completely of wood.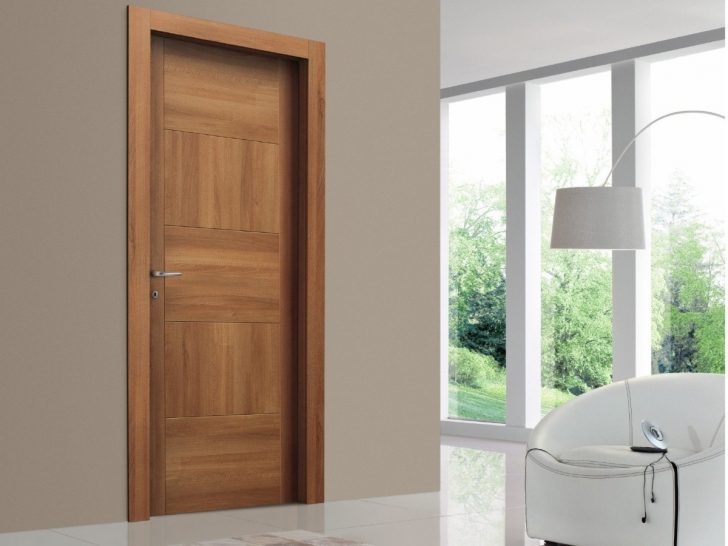 What is the wood veneer and its application scope
Those who think that veneer is something artificial, like plastic are making a terrible mistake. Actually, this material is the same natural wood, just worked by special technology.
Veneer is a wood sheets thick from 0.1 mm to 12 mm, obtained by cutting thin layers of wood from a tree trunk.
So if you face a choice: what is better to use to perform finishing works with your own hands – veneer or PVC, preference should be given to the first, since it is a completely natural material.
Veneer spheres of application are from the furniture industry and construction to automotive manufacturing. It is used in manufacturing of matches, case furniture, doors, floors, wall panels, musical instruments and even for expensive cars interior tuning.
Usually a veneer is bonded with a special glue and press on MDF plates, of which later different products are produced. This technological process can be easily reproduced at home If you want to renew any wood surface of a simple form by yourself.
The advantages of veneered products
Furniture and joinery with solid wood used, of course, look beautiful. However, they also have a lot of disadvantages. First, these things are heavy, and secondly, they have a very high cost, which is available not for everyone. And, thirdly, natural wood over the time is inevitably exposed to different kinds of deformation: fissuring, twisting, cracking.
All of this can be avoided just if you apply a veneer in your work. Among its main advantages, it is necessary to define the following:
this covering always has a beautiful and noble design, which becomes more striking after processing works;
you can decorate a framework with a veneer of expensive kinds of wood, which is made of a cheaper array (e.g., pine or aspen). Therefore, finished veneered products have a more reasonable price, but no less respectable look;
if your veneered doors have damage, so, it can be restored without any harm to appearance that is very difficult to do with a product of natural wood;
it can be used to renew old pieces of furniture or woodwork, which can significantly reduce the cost of renovation of apartments;
veneer and MDF is much easier to handy than using an array of natural wood, where you can't do industrial machines for processing works.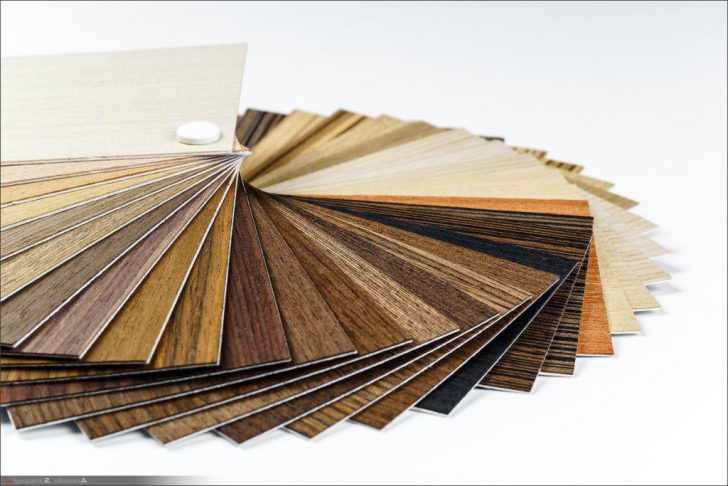 Types of veneer and their qualitative characteristics
Veneer is classified according to the method of its manufacture.
There are three main types of the material:
The thin veneer is always obtained by peeling. The essence of this production process consists of accurate cutting of the finest wood layer from the constantly rotating log. This type of veneer is the cheapest and for some qualities is worse respect to planed and sawn. Usually it is produced of such species of tree as aspen, pine, alder, birch, beech, oak. This type of processing works is used for the production of wood laminates, plywood, laminated wood, MDF gluing, and veneering the individual pieces of furniture.
Sliced veneer is produced by slicing of wooden beams with special knives. After all, it turns to a perfect lining for door and furniture facades and wall panels, because the technology of production allows to make slices of beam at different angles, experimenting with pattern and texture of the wood. It is also often used for clearance items in the technique of "marquetry".
Sawn veneer the fattest - from 1 to 12 mm. It is produced by sawing processed timber into thin boards. This is the oldest method of obtaining material from those known by famous masters, but is also the most expensive, as using it results a lot of waste. Veneer constructed in this manner is often used for the expensive furniture inlaying, as well as to create a curved millwork or furniture elements. Cedar, fir or spruce raw materials always have been the best materials for its creating.
This type of veneer is of the highest quality among all which are produced for the moment, so if you are doing repairs with your own hands and are looking for suitable finishing material, it is advisable to use it in combination with MDF for door casing, creating wall panels or curved staircases.
But you always have to keep in mind that in this case the repair will cost a bit more than with use of sliced or peeled material. Using sawn veneer, you can update and refurbish vintage furniture – in this situation will help pasting a product with sheets with wood pattern carefully chosen and matching to the original.
Laminate or veneered doors - which is better
Most frequently veneer in repair-building sphere can be found in door production. What door is better to choose: of veneer or laminate? Such a problem of choosing is always faced by everyone who decides to renew the apartment with his own hands.
It should be said immediately that solid wood is used for the frame of both types of doors, this solid wood is usually attached to MDF boards, so, the difference between them is only in the top finishing layer.
Veneer is a natural material, therefore, the color and texture of door panels made of it are traditional, natural and noble, in contrast to laminate. These doors look gorgeous in a classic interior.
Laminated panels, for its part, covered by an artificial material – laminating membrane applied to MDF, which is less environmentally friendly. Nevertheless, laminated products absolutely do not limit the wild flights of designer's imagination, because they can be of any desired color and texture. Therefore, the choice of laminated or veneered surface depends only on the preferences of the consumer.