White Interior Doors in Apartment Design
Table of contents:
Work on interior design enables each designer to create true masterpieces of modern interior art. A right choice not only of decoration of a room but also doors and windows is important and very urgent task on which the result depends. And often, wrong color or type of windows and doors can spoil even the most original and effective design. How not to make the wrong choice and really choose a perfect color that pleases a designer or an owner of an apartment who decided to do his own design of his apartment? It's simple: trust the professional instinct, experience, intuition and your own taste.
It is difficult to forget the days when white doors in an interior of an apartment, public establishments, healthcare and other public centers were any color other than white. But over time, these traditions were replaced, doors of other colors appeared, among which are shades of wood and they became the most popular and especially because of its natural material, colors and design. However, the return to the past is observed not only in fashion and art. In the modern design the cyclical use of special design elements, various accessories, kinds, colors and types of windows and doors can also be seen. Today, the white interior doors are very popular again and they can be interesting accent of an interior design, or fully blend in with general style.
What is special about white doors
The utility in an interior. No matter what style of interior design is selected, white color perfectly completes any of them. It is enough to choose a shape and a type of a door for design of a room to make it special and original. White color will be an advantage, but it does not spoil general appearance of a finished apartment or house, office or cottage.
Easiness in an interior. Due to white color which significantly increases the size of a room you can visually increase small hallways, small rooms, and add light to a room with no windows. These doors do not make heavy general look of a room, and conversely they make it airy and light.
An increase of room space. Using of white doors will increase any space vertically, it is very important for rooms of small size and with low ceilings, and the windows horizontally.
Excellent combination with any colorings in an interior. In order to profitably set off a white door, it is necessary to use contrasting colors of walls, floor or interior accessories. If you need to merge doors with the rest of interior colorings, use warm colors or white color of walls.
Do you want to make accent on a white door? It's real. And it is enough to choose the original accessories for it. It may be bronze or cold gray color, gold or chrome. Due to the large variety of accessories choice can be made even in a picture of similar doors – you can see how things will look together and order a similar execution. Also, you can emphasize a door by dark floors, walls or showy dark furniture.
It is important to understand that a white door in an interior it's not only harmony, laconism and spectacular view but also an additional design element which is needed special upkeep. Unfortunately, white color is the most easily soiled of all colors. However, choice of high-quality doors which are not affected by moisture or influence of non-aggressive chemicals will relieve you of worries for its appearance and return the original appearance after appropriate cleaning. Depending on the type of material from which the door is made, appropriate detergents are used. And a small detail: a white door solves an important problem - they hide dust well. It is almost not noticeable on concave or convex elements of a construction.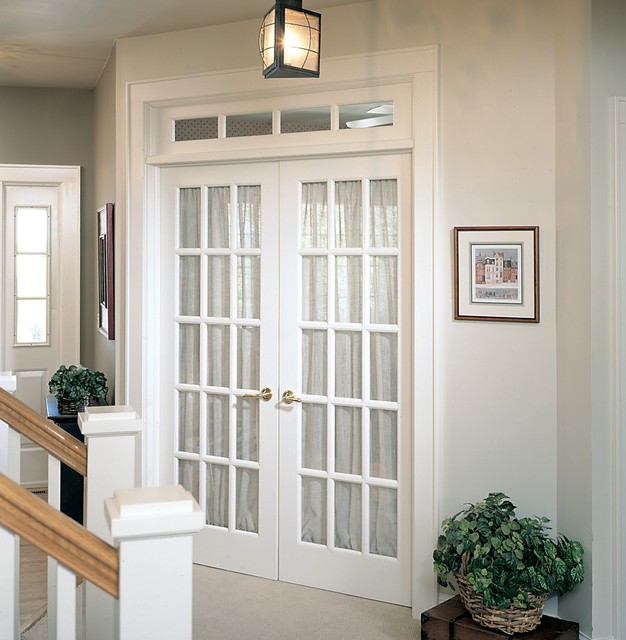 How popular are white interior doors in an interior
A variety of proposals of doors in white color allows without the complexities to choose the most appropriate doors specifically for your interior for demands and final project design. Various design, material of manufacture, installation and designs feature - it all can significantly change general look of a room. White doors with glass in an interior perfectly fit into any design but it is important to take into account some of peculiarities of each specific proposal. You can rely on your taste or consult with a designer. Designers often choose doors and use them in sketches and a customer has to state a fact of right selection by a preliminary picture or choose other variants to somebody's liking.
Do not think that white doors in a modern interior should be in every room of an apartment. A front door may be substantially different in color and it would not be a violation of the rules of proper design. However, you can choose bicolor doors: white on inside and dark from outside. It is not only impressive and beautiful but also very practical. Note, white doors with some light colors of the walls looks not very harmoniously, and in some cases, ridiculous. And if a desire of a customer is an interior with white doors and light walls in pastel shades, you can use a favorite technique of Americans – to add a wide white baseboards and moldings. Alternatively, if a color of floors and skirting of an apartment is dark, it is sufficient to use a darker trim in the same color for doors to add harmony and originality in general interior design.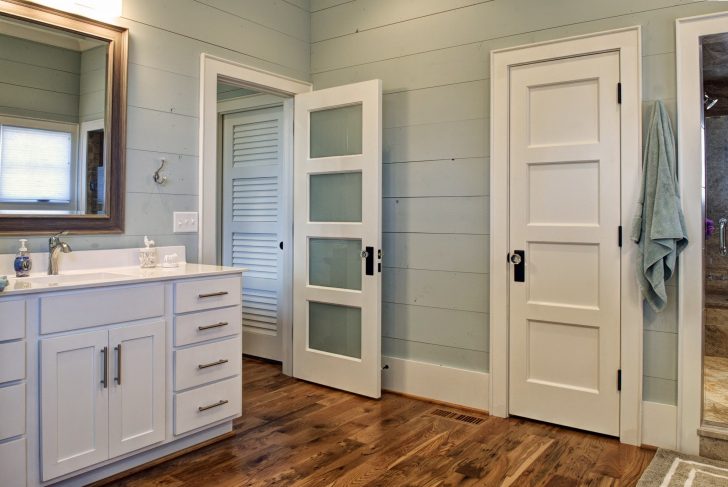 To choose doors with glass or without it
Looking at photos of interiors of apartments or houses, you can see that doors with glass look very organically and add more space to any room. Moreover, glass can be completely transparent or matt. How to choose right glass? Find out for yourself what is important to you? Isolation or more light and space? Plenty of room or creation of your own space in the apartment, where you can hide from prying eyes? Of course, it is very important to consider use of rooms and, based on this, to choose a door with glass or without it. For example, a door to a bedroom is chosen more often without windows and to a living room or kitchen - with glass. Also, a leaf without glass is preferred to set up in a bathroom or toilet.
White doors with frosted glass of interesting shape look very impressive. These doors provide harmony to any design and exclusivity of a finished room. And one more important thing: choosing of white doors is not all what design decoration requires, as a style of selected door is very important and should ideally fit in general interior style. Mostly, this color is used for doors of Scandinavian style and minimalism, but in recent times it is popular for completely different designs. Experts will help you decide who are quite good at this.